You can add your trips to Seatfrog in three different ways: in the app using Trip Search, by entering your booking reference number, or by forwarding your booking confirmation email to trips@seatfrog.com.
Check your ticket type below to see the best way to add your trip:
*please note email forwarding does not work for GWR booked services.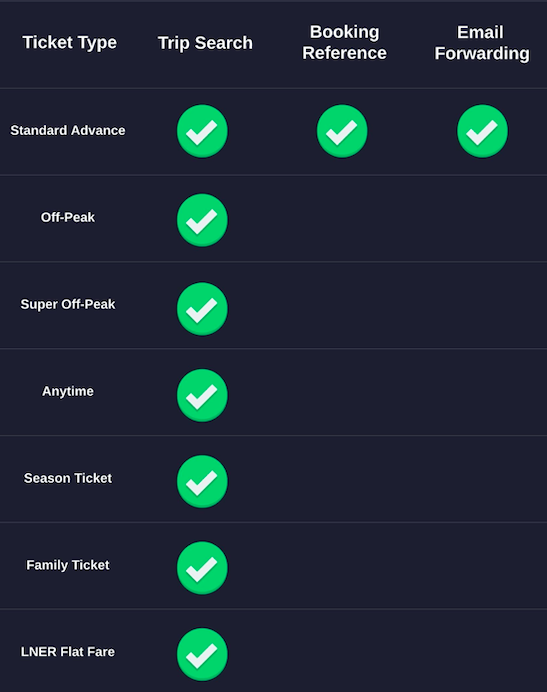 Using our Trip Search tool
To add your trip to your Seatfrog account you'll first need to make sure that you have the latest version of the app. Please check this by going to either the Play Store for Android users or the App Store for iOS users.
Once you've downloaded the new version you'll be able to add your trip directly to your account by searching on your trip details. We'll then generate a list of trips. You just need to find and confirm yours, then you can make a bid!
Please check that your trip details are correct and remember that upgrades are only valid for the specified trip and are not transferable.
Entering your booking reference
Once you have purchased an eligible Standard Advance ticket directly from a Seatfrog travel partner follow these steps:  
Tap the logo of the travel partner you booked with.
Enter your booking reference.
Enter your departure date.
Search for your trip.
Forwarding your booking confirmation email to trips@seatfrog.com
Seatfrog can automatically add trips booked with a Standard Advance ticket, directly through a number of third party websites.
Simply forward your booking confirmation email to trips@seatfrog.com. Once processed, you will receive an email notification to let you know the status and eligibility of your trip/s.
Hint: If you submit your confirmation email from an email address not already registered to a Seatfrog account, you will receive an 'unable to add your trip' notification email. You will then need to forward your original confirmation email to the account registered with your Seatfrog account, and then forward it again to trips@seatfrog.com.
Find out about booking channels supported by trips@seatfrog.com, for your rail company here.