What is Seatfrog Credit?
Now and again, we offer promotional or account credits to our customers. This credit can be used towards paying for an upgrade, or train tickets.
If you have been awarded credit to your Seatfrog account, you can check your balance by following the steps below.
Where can I check my credit balance?
Select 'account' from the main navigation bar and tap 'Credits.' Here you will be able to find your total credit balance, along with any current promo codes that have been added to your account. Each promo code will specify its expiration date along with terms and conditions for use.
How do I apply credit to an upgrade?
If you have credits on your account they will automatically apply to your next upgrade, but may need to be activated for other purchases. To save your credits for another time, simply toggle your Seatfrog Credit off when confirming a bid or buying an instant upgrade.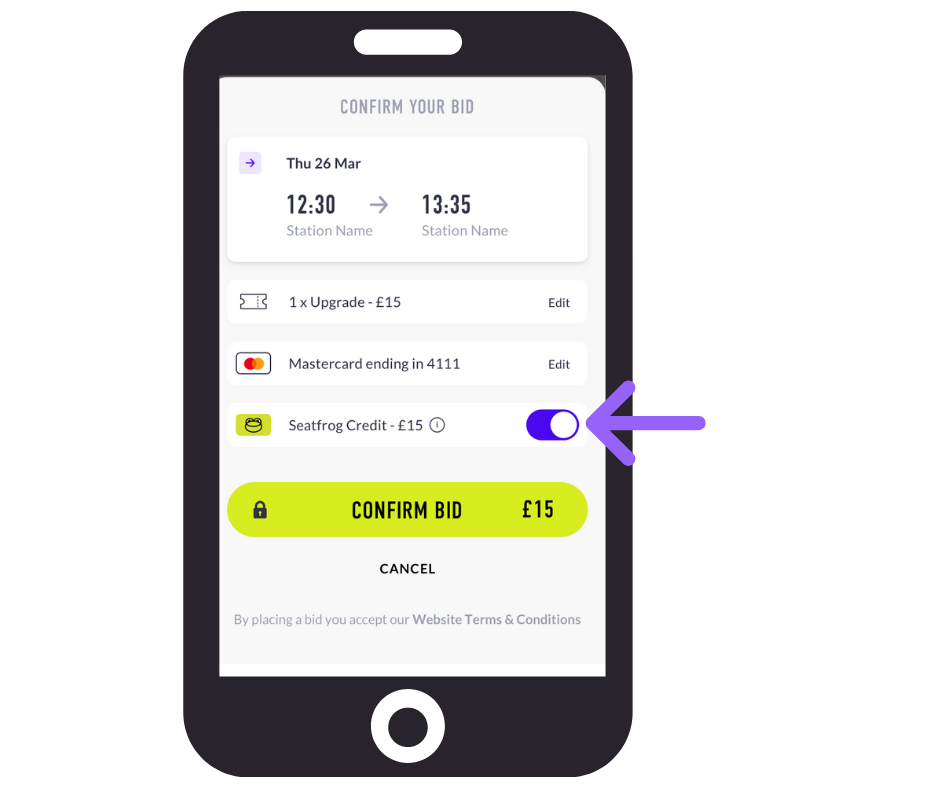 If Seatfrog credit is toggled on but is less than the total cost of your upgrade, the remainder of the fare is charged to your preferred card.
Can I use my credit on more than one upgrade?
Yes, if your credit balance exceeds the upgrade total, the remainder will be available to use on your next upgrade. If your credit balance does not exceed the upgrade total,
Can I change my credit from one currency to another?
No, your credit balance is displayed in the currency the credit was issued in, and cannot be changed from one currency to another. Credit can only be applied to upgrades of the same currency.
Can I purchase Credit for myself or as a gift for someone else?
No, Seatfrog Credit isn't currently available for purchase.